Where Can I Get My Acura Serviced at a Car Dealer Near Me?
Are you searching for Acura service near me? If so, you should only consider one of our Acura service centers at our local Acura dealerships. Only an Acura dealer can help you maintain superior performance in your Acura sedan or SUV. Keep reading to find out why you're going to want to choose a local Acura dealership for service rather than another service provider.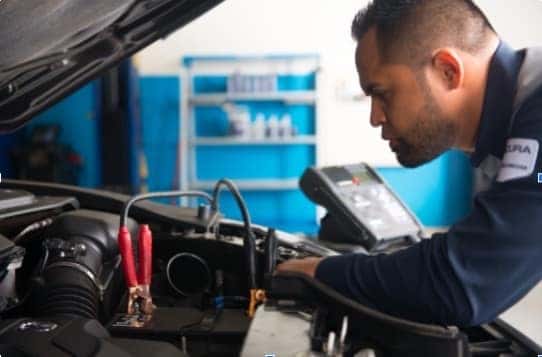 Acura-Trained Service Specialists
Our Acura service experts know how to deliver precision-crafted service with all Acura services you won't find at other local service providers. They know the in's and out's in all vehicles in the Acura line-up, so you can rest assured your Acura will be taken care of properly.
Acura Genuine Parts & Accessories
We only use genuine Acura parts and accessories from the Original Equipment Manufacturer (OEM) for all services. This helps ensure your Acura SUV or sedan maintains top-notch performance and runs like it was made to do for the entire life of your vehicle.
Acura Accelerated Service
A select few of our Acura dealers offer Acura Accelerated Service, which allows you to be in and out in 30 minutes or less for select services such as tire rotations, oil changes, battery service, and more. With these services, you don't have to schedule an appointment ahead of time.
Acura Service Coupons
One of the best parts of servicing at your local Acura dealership is our Acura service coupons. We consistently offer our Acura services specials to ensure you get great pricing on the select services your Acura needs. You can find out which Acura service offers each Acura dealer near you has going on now by visiting the individual Acura site.
Schedule Your Acura Service Appointment Online Today
All of our Acura dealers offer an online scheduler tool so you can schedule your Acura service appointment quickly and easily. You can also contact any of our Acura dealers in Iowa, Illinois, Des Moines, or any of the surrounding areas online for more information about the Acura services you may need before scheduling your appointment. We hope to see you soon at one of our Acura service centers!